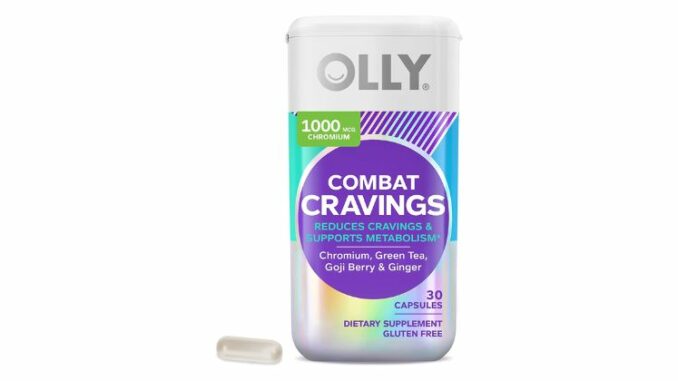 Olly Combat Cravings simplified
Olly Combat Cravings offers a blend of ingredients aimed at reducing cravings and supporting metabolism. While it contains some key ingredients known for their potential benefits in weight management, the product has a few drawbacks. Some ingredients such as green tea and ginger are underdosed, and some crucial and potent ingredients are missing; for example, glucomannan, cayenne pepper, and l-theanine.
The formula contains an unnecessary filler ingredient among the list of inactive ingredients called titanium dioxide, which makes the long-term safety of Olly Combat Cravings questionable. While the product is affordable, we still think you can get a better bang for your buck.
Pros
Relatively cheap at $19.99 for a one-month supply
Offers a couple of nutrients such as chromium and green tea that can help with fat loss when used regularly
Cons
Lacks core ingredients
Green Tea Extract is underdosed
Not a comprehensive fat burner supplement overall
Uses a filler called titanium dioxide
Our Picks For 2023:
>The Best Fat Burners Currently Available<
Olly Combat Cravings – how does it work?
Olly Combat Cravings is a dietary supplement designed to help reduce cravings and support metabolism. It aims to provide control over food cravings, maintain healthy blood sugar levels, and boost energy. The product comes in the form of 30 capsules, providing a 30-day supply. Let's see if Olly Combat Cravings capsules are really that effective.
Core ingredients in Olly Combat Cravings
Olly Combat Cravings contains several key ingredients known for their potential benefits in weight management:
Chromium (1000mcg): Chromium is included in a clinically-studied dose to reduce cravings and help maintain healthy blood sugar levels.
Green Tea Extract (50mg): Green tea extract is known for its thermogenic properties, which can support metabolism and potentially aid in weight loss. However, the dosage of 50mg in Olly Combat Cravings is relatively low compared to more effective fat burners on the market.
Goji Berry Juice Powder (50mg): Goji berries are rich in antioxidants and have been associated with potential health benefits. However, their specific role in weight management is not well-established.
Ginger Extract (50mg): Ginger is commonly used for its anti-inflammatory properties and digestive benefits. While it may offer some health advantages, its direct impact on weight loss is limited.
It's worth noting that the ingredient formula of Olly Combat Cravings has some drawbacks. The doses of certain ingredients, such as green tea extract, are relatively low compared to other products that utilize higher doses for optimal effectiveness.
Additionally, the presence of titanium dioxide as an inactive ingredient is a concern. Titanium dioxide is a filler known to have potential health risks and is best avoided in supplements. Here's a recent study that shows that titanium dioxide may be a potential carcinogen.
Some core ingredients such as glucomannan, cayenne pepper, and l-theanine could have been added to Olly Combat Cravings' formula. They would make the formula far more potent for fat loss.
Looking for an alternative?
>Click To See The Top Rated Fat Burners In 2023<
Side effects
Although side effects shouldn't occur in most cases, due to titanium dioxide inside Olly Combat Cravings, which is considered a potential carcinogen, we don't consider this the safest weight loss supplement.
Remember to always consult with a healthcare professional before starting any new dietary supplement, especially if you have any underlying medical conditions or are taking medications.
Directions – When to Take and How to Take Olly Combat Cravings
The recommended dosage for Olly Combat Cravings is to take one capsule daily, preferably with a meal or as directed by a healthcare professional. It's important to follow the instructions on the product label and not exceed the recommended dosage.
Price
We haven't found Olly Combat Cravings capsules to be available at sites like Walmart and Amazon at the moment. However, the product currently costs $19.99 for a one-month supply on the official Olly website. We have to admit, this is the great price for the number of servings you get.
Conclusion
If you don't mind the risk of titanium dioxide and if you're looking for a somewhat effective weight loss supplement that is cheap and that will work to some extent when used consistently, Olly Combat Cravings should work for you.
However, the doses of certain ingredients, such as green tea extract, are relatively low, potentially limiting their effectiveness. The lack of core ingredients for fat loss makes Olly Combat Cravings far from the best fat burner on the market.
Additionally, the inclusion of titanium dioxide as an inactive ingredient is a concern due to its potential health risks. Considering these factors, there may be more effective fat burners available on the market with better ingredient profiles.
Not happy?