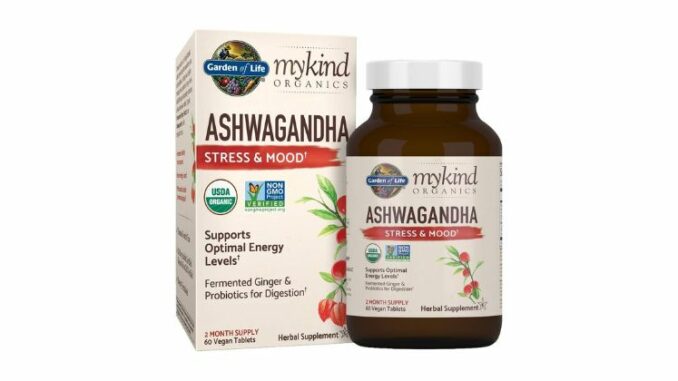 Garden of Life Mykind Organics Ashwagandha simplified
Here's our Garden of Life Ashwagandha review. Most supplements on the market today use ingredient formulas that don't work; they are incomplete or contain bogus ingredients. We're about to see if this nootropic is any good and if it can fulfill everything the manufacturer claims. Here's a quick summary of what we're going to be covering.
Garden of Life Mykind Organics Ashwagandha hasn't made it anywhere near our top list of nootropics. It has only two main ingredients for brain function and health, which are not enough for substantial results. You could notice a slight improvement in the reduction of stress levels, but for memory and cognitive performance, Garden of Life Ashwagandha won't leave you delighted, mostly due to a lack of core ingredients.
Pros
Could help alleviate stress & anxiety to some degree
Relatively affordable at $20.79 for 60 tablets
Cons
Missing core ingredients for memory improvement, energy, and cognitive performance
Won't promote substantial results
Contains an underdosed ingredient, therefore, it will be ineffective
Our Best Picks For 2023:
The Most Effective Nootropics of The Year
Garden of Life Mykind Organics Ashwagandha – how does it work?
Garden of Life Mykind Organics Ashwagandha Stress & Mood is a herbal supplement with the main focus on improving brain health. More precisely, these are the claimed benefits you're supposed to get by taking it:
Stress relief
Mood support
Energy boost
Fighting fatigue
Supporting digestive health
Garden of Life Ashwagandha comes in tablet form, with 60 vegan tablets per jar, enough to provide you with a 2-month supply. But, does it really work? We're about to find out by checking out the ingredients inside. Without further ado, let's get into more details.
Core ingredients
Each Garden of Life Ashwagandha Stress And Mood tablet provides you with the following nutrients:
Organic Ashwagandha Root Extract (30mg Withanolides) – 600mg
Organic Fermented Ginger Root – 50mg
Probiotic Blend – 4mg (Bifidobacterium lactis Bl-04, Lactobacillus acidophilus La-14)
Let's see what these ingredients do and if they're any good.
Ashwagandha
Ashwagandha is a popular herb traditionally used in India. It is considered an adaptogen, meaning that it can boost the body's resilience to stress, according to Examine. Ashwagandha has stress-relieving effects and can combat anxiety and depression, and lower blood sugar levels. It appears to be a safe nutrient for most people.
Ginger Root
Ginger is a spice loaded with antioxidants. It appears to be effective at easing digestion and alleviating nausea at doses of 1-3 grams. According to a study from 2014, ginger has the ability to boost cognitive function in many different cognitive disorders. This ingredient is quite underdosed in Garden of Life Ashwagandha, so we don't think you'll get significant benefits from it.
Other probiotics in the formula are mainly beneficial for the immune system and to help prevent infections.
So, is Garden of Life Mykind Organics Ashwagandha beneficial for brain health? Yes, to some degree, it could help reduce stress and anxiety levels. But, if you want substantial results, this is not the best solution.
The product lacks some necessary nutrients that would make its formula far more effective for brain health. Some of these are Citicoline, Bacopa Monnieri, or Phosphatidylserine, which is known to support locomotor functions and improve memory.
That said, due to a modest formula and some underdosed ingredients, Garden of Life Ashwagandha hasn't left us happy.
Looking for a different product?
>Click to See The 3 Best-Ranked Brain Supplements of The Year<
Instructions – How to Take Garden of Life Mykind Organics Ashwagandha?
The manufacturer recommends taking 1 Garden of Life Mykind Organics Ashwagandha tablet daily.
Side effects
We don't think you should worry about side effects with Garden of Life Mykind Organics Ashwagandha. It appears to be safe with the doses provided. Make sure to consult your healthcare provider before taking this or any other supplement for the first time, especially if you're pregnant, have a condition, or if you're taking medication.
Price
We haven't found Garden of Life Mykind Organics Ashwagandha to be available on Amazon. You can purchase it on the official website for $20.79. It is relatively affordable considering you get 60 servings.
Conclusion
Due to an incomplete ingredient formula, we can't recommend Garden of Life Mykind Organics Ashwagandha for brain health. It won't be significantly effective. There are far better nootropics available out there that use plenty of potent nutrients.
Want an alternative?