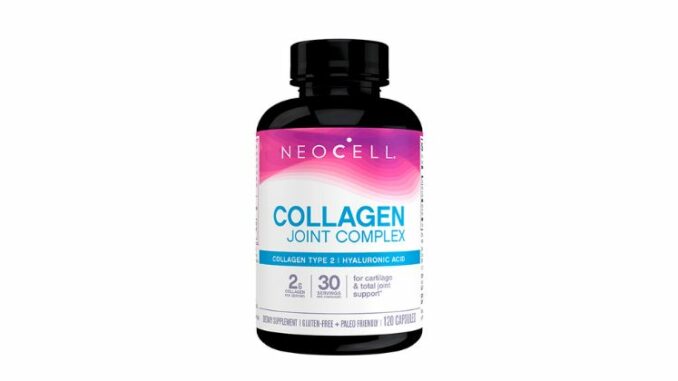 NeoCell Joint Complex simplified
NeoCell Joint Complex is a dietary non-GMO, gluten and soy-free supplement featuring 120 capsules per container, enough to provide you with a one-month supply. They're available for the price of $29.95 on the official website, a bit overpriced considering the number of servings you get.
These capsules use collagen, in optimal doses, an ingredient that can help you make your skin softer and increase its elasticity, alongside promoting hair and nail health. It can help relieve joint pain in the long run as well, but we wouldn't rely on collagen alone. Alongside collagen, there are some great ingredients in the formula for inflammation and stiffness reduction, such as hyaluronic acid, glucosamine, and chondroitin.
But, the bad news is, they are very underdosed so they won't be very effective in reducing inflammation in joints. Unfortunately, with the very modest ingredient doses, this supplement also lacks some ingredients for cartilage repairment and connective tissue healing such as MSM or selenium. NeoCell Joint Complex is far from the best supplement for your joint health.
Pros
Uses collagen in optimal doses
Can help with skin, hair, and nail health
Could reduce joint pain to some extent in the long run
Uses some well-studied ingredients for cartilage health and joint inflammation reduction
Cons
A bit overpriced at $29.95 for 30 servings
All quality ingredients for joint health are very underdosed
The ingredients won't be substantially effective due to the modest ingredient doses
Lacks some ingredients for connective tissue healing and cartilage repairment
Does not use Black Pepper Extract for better absorption of other ingredients
Our Best Picks:
>The Best Joint Supplements of The Year<
NeoCell Joint Complex – how does it work?
NeoCell Joint Complex is a non-GMO, gluten, and soy-free dietary supplement featuring 120 capsules per jar. It contains collagen, and it's mainly focused on joint and cartilage health support alongside many other claimed benefits which include:
Skin hydration
Promoting elasticity to your skin
Supporting nail, skin, and hair health
Relieving joint pain
Reducing inflammation in your joints
Joint lubrication
Connective tissue & cartilage support
That sounds good, doesn't it? But does it really work? We're about to find out. Let's get into more details!
Ingredients
At the first glance, we noticed that NeoCell Joint Complex uses some great ingredients for cartilage and joint health. Also, it doesn't use a proprietary blend, which is also a big plus. Let's break down every particular ingredient so you can know what it does for the body.
Hydrolyzed Chicken Collagen (2400 mg per serving)
Collagen is a protein that gives structure to your skin, cartilage, bones, muscles, ligaments, and blood vessels. As you age, the collagen levels in the body decrease significantly, and that is the main cause of the saggy skin and joint stiffness. There are at least 16 different types of collagen in our body, but the most known to humans are 5 different types: I, II, III, V, and X, which are all found in a variety of different foods.
This supplement uses type 2 collagen, which comes from a chicken. Type II collagen is a crucial component of joint cartilage, loaded with glucosamine and chondroitin sulfate, and that's what makes it the most helpful collagen type for joint comfort and flexibility.
Glucosamine (0.84 mg per serving)
Glucosamine is an amino acid that can be found in the human body. It has been shown to have anti-inflammatory effects when it comes to joint health. It can also help relieve the pain, increase mobility, and help with muscle function. When taken alone, it offers little benefit to those suffering from osteoarthritis. It works the best when combined with other ingredients. (study 1)
Glucosamine is very underdosed in NeoCell Joint Complex. Based on research, the optimal dose would be around 500mg for alleviating arthritis symptoms.
Chondroitin Sulfate (0.84 mg per serving)
Chondroitin Sulfate is a chemical found in cartilage. It is usually combined with glucosamine for the treatment of osteoarthritis symptoms, and it's very potent in that field. (study) It can help make you more flexible, and relieve pain in the joints due to its anti-inflammatory effects. However, it's very underdosed in this supplement. The safest and most effective dosage would be around 100mg.
Hyaluronic Acid (0.84 mg per serving)
Hyaluronic Acid can help in the growth of joint cartilage and can reduce inflammation and pain by lubricating joints. A study has shown that taking up to 200mg of Hyaluronic Acid daily drastically decreased arthritis symptoms in people from 40 to 70 years of age.
The ingredients in NeoCell Joint Complex are overall decent, but their dosage is very modest, so the effectiveness won't be quite promising.
On the other hand, collagen is in optimal doses, which can help you reduce joint stiffness and pain in the long run, but we wouldn't rely only on this ingredient alone.
There are also some other ingredients that could have been put in the formula to make it more effective. For example, MSM and selenium work well for connective tissue healing and repairing cartilage. Black Pepper Extract could have been put in as well to increase the bioavailability of other ingredients.
All in all, this supplement can help you alleviate joint pain in the long run if you're consistent, but it's not the best solution for your joints. It lacks some ingredients, and some of the effective ones are very underdosed. We don't consider NeoCell Joint Complex a comprehensive joint supplement.
Looking for a different supplement?
>Click to See our List of The Best Joint Supplements<
Instructions – How to Use NeoCell Joint Complex?
The manufacturer recommends taking 4 NeoCell Joint Complex capsules daily, preferably on an empty stomach for the best results. Do not exceed the recommended dosage.
Side effects
As for the side effects, NeoCell Joint Complex shouldn't cause any side effects if you follow the manufacturer's recommendations and if you're a healthy individual. However, if you're sensitive, have a condition, or if you're taking medication, avoid this or any other supplement. Excessive collagen consumption caused some side effects in some people such as heartburn or bloating, but these are very rare. Also, excessive collagen might cause damage to internal organs, so always follow the dosage recommendations. Talk to your doctor before taking any supplement for the first time.
Price
NeoCell Joint Complex is currently unavailable on Amazon, but you can purchase it on the official website for the price of $29.95 per jar. Considering that the capsules would last you for only a month and that some of the ingredients in the formula are very underdosed, they may be a bit overpriced.
Conclusion
Overall, NeoCell Joint Complex is a decent collagenic product that can help you reduce joint pain and stiffness if you're consistent. Collagen is in optimal dosage, but other ingredients in the formula for cartilage health and connective tissue healing are very underdosed, so their effectiveness won't be substantial.
We wouldn't rely only on collagen when it comes to joint health and inflammation reduction. Collagen can mostly help you by hydrating the skin and increasing its elasticity, alongside promoting hair and nail health. There are better alternatives available on the market for your joint health.
Not happy with this product?
>See What We Consider The Best Joint Supplements of The Year<